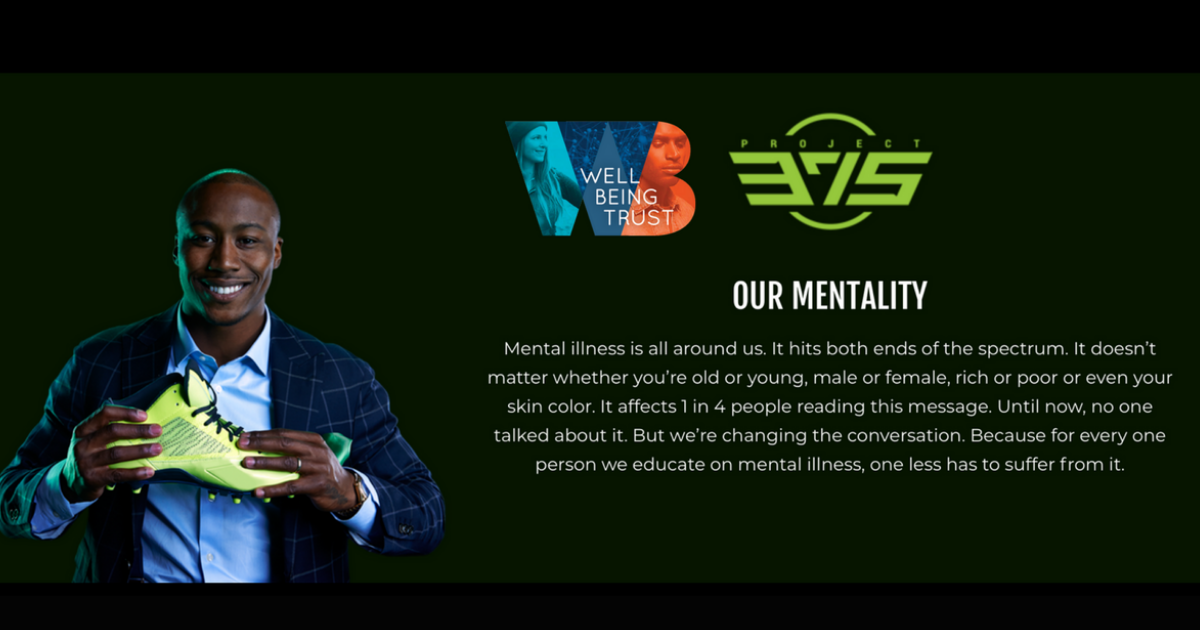 WHO: NFL Star, Brandon Marshall of the New York Giants and his wife, Michi Marshall, joined by PROJECT 375 and Well Being Trust .
WHAT: Well Being Trust has generously donated to PROJECT 375 to help bring PROJECT PREVENT" to schools and youth throughout Los Angeles. PROJECT PREVENT" aims to improve mental health care services for risk youth via technology driven support and Mental Health First Aid training for parents, teachers and caretakers. Through the program, PROJECT 375 hopes to create improved access to care and provide a safer, more supportive environment for all youth.
On Friday, February 16 , Brandon and Michi Marshall will host the Mind Over Matter Talk at Providence High School in effort to eliminate the mental health stigma and create a healthy space for conversation. The Marshalls will share their experience through education, advocacy and awareness.
On Saturday, February 17, through a grant from Well Being Trust, PROJECT 375 will provide youth Mental Health First Aid training for parents, teachers, counselors, mentors and caretakers who wish to be an ally.
WHEN: Friday, February 16, 2018 | 12:20PM 1:20PM
Mind Over Matter Talk
Providence High School | 511 S Buena Vista St., Burbank, CA 91505
Media Availability: 1:30PM 2:00PM
Saturday, February 17, 018 | 8:00AM 5:00PM
Youth Mental Health First Aid Training
Providence St. Joseph Medical Center | 501 S Buena Vista St., Burbank, CA 91505
About PROJECT 375
PROJECT 375 is an extraordinary leader in the mental health space. Founded in 2012 by New York Giants wide receiver Brandon Marshall and his wife Michi, PROJECT 375 is a national non-profit dedicated to unlocking human potential through conversation, education, and inspiration. With offices in New York City and Chicago, PROJECT 375 responds to the needs of adolescents by providing parents, teachers and staff members with Youth Mental Health First Aid Training. The foundation has appeared on nationally syndicated television shows such as The View and Inside The NFL on Showtime, as well as local news outlets throughout New York and Chicago. In 2017, PROJECT 375 along with its founders Brandon and Michi Marshall, were honored by the Mental Health Association for their tireless advocacy for the mental health community.
For more information, please visit
and follow us on Facebook, Twitter and Instagram @PROJECT375.
About Well Being Trust
Well Being Trust is a national foundation dedicated to advancing the mental, social, and spiritual health of the nation. Created to include participation from organizations across sectors and perspectives, Well Being Trust is committed to innovating and addressing the most critical mental health challenges facing America, and to transforming individual and community wellness.
. Twitter: @WellBeingTrust #bewell
About Providence St. Joseph Health
Providence St. Joseph Health is committed to improving the health of the communities it serves, especially those who are poor and vulnerable. With 50 hospitals, 829 physician clinics, senior services, supportive housing and many other health and educational services, the health system and its partners employ more than 111,000 caregivers (employees) serving communities across seven states Alaska, California, Montana, New Mexico, Oregon, Texas and Washington. With system offices based in Renton, Wash. and Irvine, Calif., the Providence St. Joseph Health family of organizations works together to meet the needs of its communities, both today and into the future.
MEDIA CONTACT: Samantha Baggett 310.301.4274
SCohen@eagsportmanagement.com